California Craft Beer Basket
$69.00 at Hickory Farms
Shipping: $12.95
Gift Description for California Craft Beer Basket
When it comes to craft beer, nearly every town in America has at least one brewery. But when you look at a map of where craft breweries are concentrated, it's hard to miss the thousand+ located in California. National favorites like Anchor Steam, Stone, Sierra Nevada, and Ballast Point all come together in this beer gift. Six bottles total are accompanied by made-in-California snacks and presented in a wooden tray that's easy to use to hold keys and other small stuff.
Often beer gifts are marked up and sometimes feel like the prices aren't fair. This gift stands out as being exceptionally priced and is a great value for a fun beer gift.
Bonus! This gift ships free to addresses in California.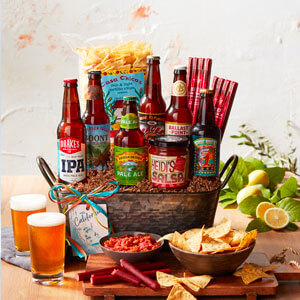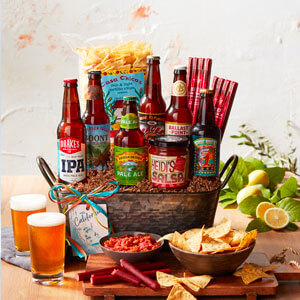 It's perfect for...
For some, the act of drinking beer rises above "what you do on a Friday night" and is a full on hobby. These beer drinkers often read about beer online, frequent sites like Beer Advocate and RateBeer, have the Untappd app on their phones to track the beers they drink, and most importantly, make a habit out of finding and trying new beers to drink whenever possible. More about Craft Beer Lovers
Many craft beer lovers enjoy discovering new beers just as much as they enjoy drinking them. They have a curious palate and jump on new beer trends, so they're quick to order something they've never heard of just to check it out More about Explorers & Adventurers
Buy California Craft Beer Basket
$69.00 at Hickory Farms
Shipping: $12.95
This gift ships to these states
Alcohol shipping laws are complex. You can't send beer everywhere. Here is where you can send this gift.
This gift ships to these countries