Best
Homebrewer Beer Gifts
Easy Homebrewing Countertop Appliance
Sale!
Homebrew Starter Kit for Craft Beer Connoisseurs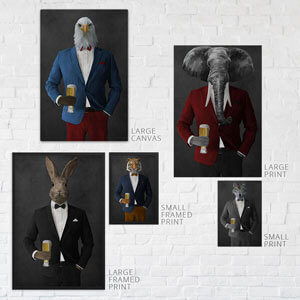 Customized Wall Art featuring Animals & Beer
close
PicoBrew Pico C
Homebrewing is the pinnacle of beer geekery. Once you've become a connoisseur of beer, the next step is often brewing your own, because the lure of always-fresh beer is strong. Many beer lovers dream of homebrewing, of tweaking recipes until they make the magical elixir that tastes perfect to them, but the reality of homebrewing is that it's quite complicated and time-consuming. If there's anything we're all short of these days, it's time.
$549.00 $349.00 from Amazon
Full Details
Buy This Gift
close
6G Craft Beer Kit Extra
There are so many homebrew starter kits out there that it might be tempting to shop by price or to choose who advertises the most, but most of these home brew kits will disappoint after a couple of batches. There's nothing wrong the kits themselves, and each kit has its pros and cons, but what separates these kits from each other for us is what kind of beer you can make in them.
Technically you can make any kind of beer you want in any homebrew setup. What we've discovered though is that the beer kits available for smaller fermenters produce merely okay beer. If your beer lover wants to brew his or her own beer using brew kits from well-known breweries, they'll find they're pre-measured for 5-gallon fermenters. If your beer lover is not a mathematician, then that might get challenging (like splitting a recipe that serves six into recipe for two).
For this reason, we recommend the BrewDemon 6-gallon kit (the extra gallon is neither good nor bad, it's just how they sell them). Especially for IPA-lovers. They'll be able to buy beer ingredient kits for famous beers like Pliny the Elder and Firestone Walker DBA.
$235.00 from BrewDemon
Full Details
Buy This Gift
close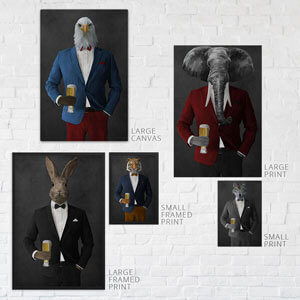 Beer Art for the Man Cave
Looking to class up your man cave, kitchen or home office with beer-themed art? Create your perfect beer drinking masterpiece with wall art from Royal Mallard. In just 3 easy steps, you can choose your favorite character, drink, and even the suit color!
With thousands of combinations, you can customize a canvas, print, or framed print to transform any room to match your favorite team or existing decor. If you don't see exactly what you're looking for, contact them and they'll create it specifically for you!
$59.99 from Royal Mallard
Full Details
Buy This Gift
Craft Beer T-Shirts
Wall-Mounted Beer Openers