Hopsy Beer Club & Sub Review
This beer club is available at multiple prices
Only ships to some states: See shipping locations
Beer Club Options
$59.99: 4 Keg Starter Pack, Shipping: $0.00
$39.99: 2 Keg Starter Pack, Shipping: $9.99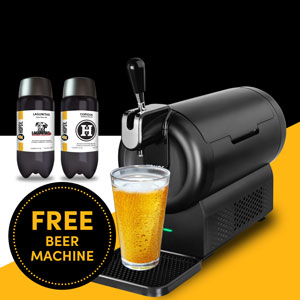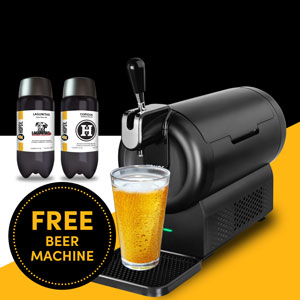 Our Beer Club Review of the Craft Beer Subscription with 4 Mini-Kegs
Most beer lovers agree that nothing is better than beer on tap. Unfortunately that usually limits them to local beer and widely distributed beer — not great for the craft beer lover who wants to try new beer all of the time. Previously the best way to get beer on tap at home was to purchase a Kegerator (a refrigerator modified to hold a keg) and commit to one kind of beer for several weeks. Not any more!
THE SUB ® is a countertop appliance that delivers fresh beer via 2L Torps (short for torpedos, which of course go on submarines).
Hopsy (Like All Beer Clubs) Is Not Available Everywhere, Yet
You can currently give the The SUB® Club to people living in: California, Connecticut, Idaho, Maine, Maryland, Massachusetts, Nevada, New Hampshire, New Jersey, New Mexico, New York, Oregon, Rhode Island, Virgina, Washington, and Washington D.C.
Give Hopsy Beer Club & Sub
This gift ships to these states
Alcohol shipping laws are complex. You can't send beer everywhere. Here is where you can send this gift.
This gift ships to these countries
Beer Club Options
$59.99: 4 Keg Starter Pack, Shipping: $0.00
$39.99: 2 Keg Starter Pack, Shipping: $9.99