20-Inch Dual Tap Kegerator for Full Size Kegs, Ultra Low Temps
Gift Description for Dual Tap Kegerator - Highly Rated
A Kegerator is a specialized refrigerator that holds one or more beer kegs. There are several different manufacturers and dozens of models to choose from. We've picked this one to suggest as a gift for three reasons.
This gift is in the IPA Beer Gift Ideas & Gift Guide
Beer tastes best fresh and it tastes best on draft. For the IPA-lover, freshness and draft service help enhance the aromatics coming from the hops, which is the essence of what makes an IPA so enjoyable. Kegerators are modified refrigerators that hold beer kegs inside them. We picked this particular Kegerator because it has a dual tap (meaning your IPA-lover can keep two smaller kegs of his or her favorite IPA fresh and super cold at home, all of the time). Want to upgrade this gift? Order the beer tap handles for his or her favorite beers or have custom tap handles made just for him or her.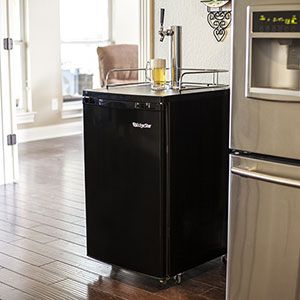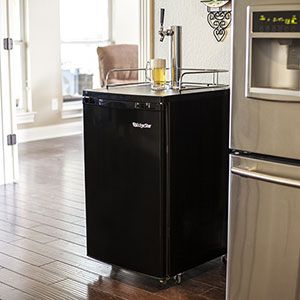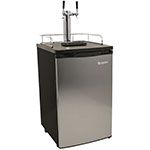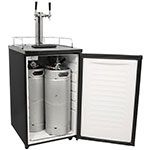 Three Reasons We Chose THIS Kegerator
Reason 1: It's compact and can go anywhere in the house, though it's best on a hard-surface. Since it looks like any other refrigerator, it fits in well in the kitchen and the garage.
Reason 2: It's a dual-tap kegerator, which means you can put two kegs inside (smaller kegs, of course) or just a single keg of any size.
Reason 3: It's well-reviewed. The average overall rating on Kegerator.com was 4.2 stars and 4.1 stars on Amazon.
Included in the box
Stainless Steel Column Dual Faucet Tower
Chrome Plated Brass Faucet (2)
Domestic "D" System Sankey Coupler (2)
Single Gauge Regulator
5ft of 3/16 in. I.D. NSF Approved Beer Line (2)
5ft of 5/16 in. I.D. Vinyl Air Line (3)
5 lb. Aluminum CO2 Tank (Empty)
Drip Tray
Spanner Faucet Wrench
Black Tap Handle (2)
T-Fitting 5/16 in. I.D.
Coupler Washers (2)
Buy 20-Inch Dual Tap Kegerator for Full Size Kegs, Ultra Low Temps
It's perfect for...
Buy 20-Inch Dual Tap Kegerator for Full Size Kegs, Ultra Low Temps
This gift ships to these states
This gift ships to these countries