Best
From Hickory Farms Beer Gifts
close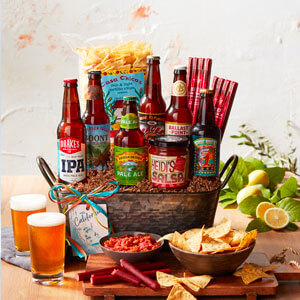 California Craft Beer Basket
When it comes to craft beer, nearly every town in America has at least one brewery. But when you look at a map of where craft breweries are concentrated, it's hard to miss the thousand+ located in California. National favorites like Anchor Steam, Stone, Sierra Nevada, and Ballast Point all come together in this beer gift. Six bottles total are accompanied by made-in-California snacks and presented in a wooden tray that's easy to use to hold keys and other small stuff.
Often beer gifts are marked up and sometimes feel like the prices aren't fair. This gift stands out as being exceptionally priced and is a great value for a fun beer gift.
Bonus! This gift ships free to addresses in California.
$69.00 from Hickory Farms
Full Details
Buy This Gift
Craft Beer T-Shirts
Wall-Mounted Beer Openers