Cali Craft Beer Basket
$49.95 at The Bro Basket
Shipping: Actual Cost
Gift Description for Customizable California Craft Beer Basket
Not everyone wants to spend $100 on a beer gift for their favorite craft beer lover. This gift starts at $52.90 (which includes the Adult Signature Fee), but can be customized to include more items, making it more expensive. It's great as it is, with the Firestone-Walker variety pack, or you can swap out this variety pack for one from Modern Times, Goose Island, a Firestone IPA pack, Newcastle, Victory Brewing, Kona Island, Mother Earth, Oskar Blues, Figueroa Mountain, Sierra Nevada, Stone, or Anchor Brewing.
In addition to the beer, this gift includes snacks. The pre-selected snacks are gourmet popcorn and Ferraro Rocher chocolates, but again there are a host of choices for snacks that you can customize this gift to include.
Buying for a woman? Please note: All gifts from The Bro Basket are designed and marketed for dudes. We prefer a gender-agnostic experience on our beer website but The Bro Basket has great beer gifts and offers great craft beers in them. This particular gift is not especially gender-driven, but all of the branding says "The Bro Basket" on it, so, you know.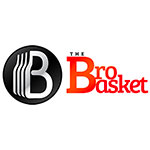 It's perfect for...
For some, the act of drinking beer rises above "what you do on a Friday night" and is a full on hobby. These beer drinkers often read about beer online, frequent sites like Beer Advocate and RateBeer, have the Untappd app on their phones to track the beers they drink, and most importantly, make a habit out of finding and trying new beers to drink whenever possible. More about Craft Beer Lovers
You likely already know if your favorite beer drinker only drinks IPAs, as it's the only beer they talk about. They only order IPAs (or Imperial, DIPA, and ESB variations) at bars and restaurants.
Much of the appeal of IPAs comes from intense bitterness and showcasing different types of hops, which impart different flavors to the beer More about IPA-Only Beer Lovers
Many craft beer lovers enjoy discovering new beers just as much as they enjoy drinking them. They have a curious palate and jump on new beer trends, so they're quick to order something they've never heard of just to check it out More about Explorers & Adventurers
Buy Cali Craft Beer Basket
$49.95 at The Bro Basket
Shipping: Actual Cost
This gift ships to these states
Alcohol shipping laws are complex. You can't send beer everywhere. Here is where you can send this gift.
This gift ships to these countries