Beer & Beef Jerky Gift Basket
$99.95 at The Bro Basket
Shipping: Actual Cost
Gift Description for Craft Beer & Craft Beef Jerky Gift
Beer nuts may be tasty, but they're kinda boring. Why not give this craft beer gift basket where the beers are paired with four exciting beef jerky selections? Firestone Walker's 805 Ale and Union Jack IPA are paired with Country Archer Original beef jerky, Astig Adobo beef jerky, Carnivore Candy Sweet Picante beef jerky, and Carnivore Candy Barbecue Mesquite beef jerky. The intense flavors these jerkies hold well against the strong beers.
Also included in the gift is gourmet popcorn, one pint glass, and two coasters. It all comes packed in a dark-stained wood crate to make your gift even better.
Buying for a woman? Please note: All gifts from The Bro Basket are designed and marketed for dudes. We prefer a gender-agnostic experience on our beer website but The Bro Basket has great beer gifts and offers great craft beers in them. This particular gift is not especially gender-driven, but all of the branding says "The Bro Basket" on it, so, you know.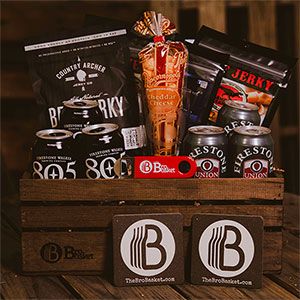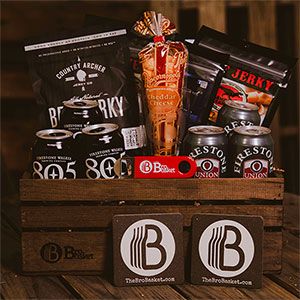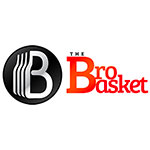 It's perfect for...
For some, the act of drinking beer rises above "what you do on a Friday night" and is a full on hobby. These beer drinkers often read about beer online, frequent sites like Beer Advocate and RateBeer, have the Untappd app on their phones to track the beers they drink, and most importantly, make a habit out of finding and trying new beers to drink whenever possible. More about Craft Beer Lovers
You likely already know if your favorite beer drinker only drinks IPAs, as it's the only beer they talk about. They only order IPAs (or Imperial, DIPA, and ESB variations) at bars and restaurants.
Much of the appeal of IPAs comes from intense bitterness and showcasing different types of hops, which impart different flavors to the beer More about IPA-Only Beer Lovers
Many craft beer lovers enjoy discovering new beers just as much as they enjoy drinking them. They have a curious palate and jump on new beer trends, so they're quick to order something they've never heard of just to check it out More about Explorers & Adventurers
Buy Beer & Beef Jerky Gift Basket
$99.95 at The Bro Basket
Shipping: Actual Cost
This gift ships to these states
Alcohol shipping laws are complex. You can't send beer everywhere. Here is where you can send this gift.
This gift ships to these countries