Create Your Own 12-Pack Crate
$139.99 at Give Them Beer
Shipping: Actual Cost
Gift Description for Create Your Own 12-Pack Craft Beer Gift Basket
Select up to 12 beers for the wood crate and add a free "drinking accessories" package to customize it even more. Choose from "Cheers to You," "21st Birthday," "Get Well," and "Birthday Beer." A full list of the available beers can be viewed at the store, but we love Give Them Beer because they have such an impressive line-up of beers for you to choose from. Most of the beers are included in the gift price, but some premium and import beers will add an additional cost.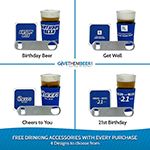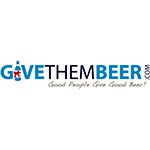 It's perfect for...
For some, the act of drinking beer rises above "what you do on a Friday night" and is a full on hobby. These beer drinkers often read about beer online, frequent sites like Beer Advocate and RateBeer, have the Untappd app on their phones to track the beers they drink, and most importantly, make a habit out of finding and trying new beers to drink whenever possible. More about Craft Beer Lovers
Many craft beer lovers enjoy discovering new beers just as much as they enjoy drinking them. They have a curious palate and jump on new beer trends, so they're quick to order something they've never heard of just to check it out More about Explorers & Adventurers
Many, many beer drinkers have a favorite, a go-to, a beer they prefer above all others. Some make a lifelong commitment to such beers, and others just don't want to be bothered with thinking about which beer they're going to drink.
If it's not a craft beer, it's something the industry calls an Import or a Domestic beer More about "Has a Favorite" Beer Lovers
Buy Create Your Own 12-Pack Crate
$139.99 at Give Them Beer
Shipping: Actual Cost
This gift ships to these states
Alcohol shipping laws are complex. You can't send beer everywhere. Here is where you can send this gift.
This gift ships to these countries