Bucket of Beer
$54.95 at The Bro Basket
Shipping: Actual Cost
Gift Description for Domestic Beer Gift Basket - Customize It
Whether your beer lover's favorite is Coor's Light or Blue Moon (or several other domestic options), they'll love this bucket of beers. Stick with the Coor's Light option or pick your own.
This gift includes gourmet popcorn and a pint glass, and it all comes packed in a trendy tin gift bucket.
Want it delivered cold? They can do that! Delivered on ice and ready to drink for an additional $19.95.
Buying for a woman? Please note: All gifts from The Bro Basket are designed and marketed for dudes. We prefer a gender-agnostic experience on our beer website but The Bro Basket has great beer gifts and offers great craft beers in them. This particular gift is not especially gender-driven, but all of the branding says "The Bro Basket" on it, so, you know.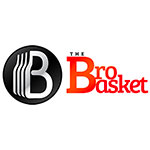 It's perfect for...
So, if they're not a Homebrewer, and they're not a Craft Beer Lover… what are they? Well, if you're still planning to buy them a beer gift, odds are good their preferred drink is beer, they like to socialize with beer, they stock up on beer for home, and they probably even have a favorite beer that isn't necessarily a craft beer.
According to the Brewers Association, a craft brewer is a small, independent, and traditional brewery. Since their definition of small includes up to 6 million barrels of beer produced each year, you might find it hard to tell which beers are actually craft beers and which are just regular beers, and you would be in good company More about Lovers of the Other Beers
Many, many beer drinkers have a favorite, a go-to, a beer they prefer above all others. Some make a lifelong commitment to such beers, and others just don't want to be bothered with thinking about which beer they're going to drink.
If it's not a craft beer, it's something the industry calls an Import or a Domestic beer More about "Has a Favorite" Beer Lovers
Buy Bucket of Beer
$54.95 at The Bro Basket
Shipping: Actual Cost
This gift ships to these states
Alcohol shipping laws are complex. You can't send beer everywhere. Here is where you can send this gift.
This gift ships to these countries