Customize Your Own
$100.00 at The Bro Basket
Shipping: Actual Cost
Gift Description for Make Your Own Beer Gift Basket
Really want to show how much you care? Take the time to pick out each and every beer, snack, and gift accessory -- including the basket itself -- and tell the story of why you picked each item as they unbox it.
Options
Choose the gift package: Wood crates (two colors), tin buckets and tubs, simple black box, or NFL tailgate bucket for their favorite team.
Choose the beer: See the list below or to the left for craft beers, variety packs, imports, and domestics.
Choose more booze: Include red wine or liquor in the basket, mixed drink packages, and cocktail mix-ins.
Choose logo glassware: Pint, shot, 6 oz taster, rocks, and stemless wine glasses.
Choose a theme package: These are our favorite add-ins! "Executive" with cigars and a flask, golfers, poker night, tasting kit package, or BBQ theme.
Choose snacks: Candy, chocolate, chips, healthy snacks, cookies, beef jerky, sauces, and dips.
Too many to list, there are more things you can add!
Buying for a woman? Please note: All gifts from The Bro Basket are designed and marketed for dudes. We prefer a gender-agnostic experience on our beer website but The Bro Basket has great beer gifts and offers great craft beers in them. This particular gift is not especially gender-driven, but all of the branding says "The Bro Basket" on it, so, you know.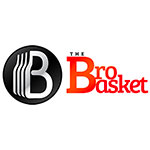 It's perfect for...
Buy Customize Your Own
$100.00 at The Bro Basket
Shipping: Actual Cost
This gift ships to these states
Alcohol shipping laws are complex. You can't send beer everywhere. Here is where you can send this gift.
This gift ships to these countries